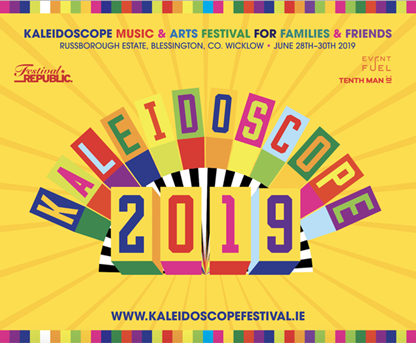 Festival Republic • Event Fuel • Tenth Man
presents
KALEIDOSCOPE
28th-30th June 2019
Ireland's first family camping festival
Bell X1 Tom Odell
Wild Youth –The Riptide Movement
King Kong Company – Le Galaxie (DJ set)
Hermitage Green – Delorentos
Brave Giant – Kíla – Wyvern Lingo
Dublin Gospel Choir – Toucan
Jerry Fish Electric Side Show – Billy Scurry
Saarloos – Laoise – RuthAnne
Thumper – Thanks Brother
Flynn – Fiona Harte
Eve Belle – Siights
& MANY MORE
Additional headliner and more acts to be announced
Join us for a three day and three night sleep-over at Ireland's first family camping festival with a very special Early Bird offer for a family of four for only €105.75
(inc. booking fee, camping, valid up until 1st May 2019)
A tantalizing festival world awaits family and friends, as Russborough House in Blessington swings open its gates for its first EVER festival on the 28th – 30th June. Kaleidoscope Festival will provide three days of high energy, full colour, multi–stage entertainment over 16 stages, designed to entice and enthral all, from babes in arms to those eligible for a bus pass!
Born out of Electric Picnic, Kaleidoscope harnesses the magic of Picnic's entertainment and family campsites, tailoring the overall festival experience to the desires of the festival-going family and bringing the essence of Electric Picnic to a brand-new venue. Kaleidoscope heralds a new era of programming for the sophisticated taste of modern parents, discerning kids and all-knowing teens!
Our extensive creative programme has been tailored to cater for each and every member of the modern Irish family. Kaleidoscope offers specific programs for 'smallies', for 4-8, 8-12 and 12-16 year olds, together with all the festival favourites for adults of all ages! Children and teen programmes will take place within Russborough's walled garden and an utterly enchanting fairy fort located on the forest's edge.
Every element of the programme has been carefully selected because it is thought provoking, interactive and inspirational, as well as hugely entertaining! We are delighted to welcome Fighting Words, Science Gallery and herpetological hobbyist Collie Ennis to the creative team – specialists and enthusiasts in their fields and world leading innovators in inspirational learning.
And that's not all – parents with babes in arms can bust some moves in the Baby Disco. For the energetic at heart – a feast of urban and adventure sports, water sports, morning runs and other endorphin inducing activities. Sooth your mind and body with our wellness program which includes meditation, Tai Chi and yoga. Our woodland spa offers access to a selection of massage treatments, hot tubs and seaweed baths. The Scrumdiddlyumptious Festival of Food is a feast of fun for everyone! And all of this in addition to the arts festival favourites of theatre, spoken word, visual art, circus, cinema, comedy and music. Kaleidoscope is a veritable feast of full family participation!
It is no accident that Kaleidoscope's gates open the very day schools finish for the summer, giving families the opportunity to move straight from the classroom to the campsite and start their summers off with a bang!
With years of festival experience under their belt, Electric Picnic, Event Fuel and The Tenth Man, can almost anticipate the needs and desires of family festival-goers. Entertainment, imaginative and programming is key, as is accessibility and setting. And Russborough delivers on all. An expansive 200 acre estate located just 20km from Dublin in Co. Wicklow, just off the N81, Kaleidoscope is designed to make the entire festival experience as seamless as possible.
And with this in mind, for the first time EVER in Ireland, Kaleidoscope will also offer 'Car Camping', reducing the trek from the car to the campsite to mere feet! Extremely popular in the USA, 'Car Camping' simply means that you load up all of your gear for the festival in your car, pull into your campsite and set up your tent on a designated tent pitch beside your car, putting an end to the laborious tasks of carrying gear back and forwards to some remote location. And there will be the usual availability of Boutique camping and Pink Moon camping that we have long come to associate with Electric Picnic.
Melvin Benn – Festival Director, Festival Republic.
'As soon as Electric Picnic tickets go on sale, family camping sells out in minutes. It is a massively popular experience. We wanted to create a festival that caters to these festival goers, but also extend its appeal somewhat, so it is also of interest to the older sibling in the family or teen and families have a festival to go to once their kids are over 12. From the many years of catering for families at Electric Picnic we have learnt what really works'.
Richard Seabrooke – Creative Director of Kaleidoscope
'As the dad of 2 wonderful children (7 and 9) I wanted to take everything that inspires me about the land we're lucky to live in and put it on a stage across 3 wonder filled days in the most incredible of settings. I wanted to prove to them, their friends and families across the country that we live in the most incredible time. A time where opportunity, creativity and collaboration are the fuel to make and mould the world around us for the better. Bringing together the very best in the world alongside our local heroes from every field I am out to prove that we have the power within us to make a brighter future for all. I can't wait to open the doors and start the carnival.'
Eric Blatchford – CEO of Russborough House
'We love the vision the organisers have for Kaleidoscope, it is a perfect fit for Russborough. It is a first for us and we cannot wait to showcase our estate to a new audience. Visually it will be stunning with the backdrop of the historic house set in the many acres of parks and woodland'.
Brian McDermott – Director of Event Fuel
'The Russborough site is an incredible space and will lend itself to a perfect site for families. We are really pleased to be working with Eric and his team. Anyone who knows the venue will really look forward to attending Kaleidoscope'.
Join us at Kaleidoscope Festival on the 28th, 29th & 30th of June for an absolutely epic weekend of family fun – let's make memories!
GET INVOLVED: Kaleidoscope Festival – JOIN THE CIRCUS!!
If you are a street performer, visual artist, performance artist, craft market operator, high quality food operator, sponsor or would like to volunteer, we want to hear from you! Please see our website for details of how to apply.
Full price
Adult camping €125.75
12-18 yrs camping €75.75
6-12 yrs camping €54.35
2-6 yrs camping €33.65
THREE DAY NON-CAMPING TICKETS
Full price
Adult Non-camping €106.50
12-18 yrs Non-camping €65.20
6-12 yrs Non-camping €48.70
2-6 yrs Non-camping €28.00
ONE DAY TICKETS
Friday, Saturday or Sunday
Full Price
Adult one day non-camping €54.35
12-18 yrs one day non-camping €38.70
6-12 yrs one day non-camping €27.50
2-6 yrs one day non-camping €17.50
Car Camping €87
Campervan €55
Boutique Camping – see kaleidoscopefestival.ie
ELECTRIC PICNIC LOYALTY DISCOUNT SCHEME EXTENDED TO KALEIDOSCOPE FESTIVAL GOERS!!
Kaleidoscope Festival is delighted to offer a special discounted rate to those who have previously attended Electric Picnic.
A 15 % discount (net of booking fee) is available to customers who have attended any 3 or more previous Electric Picnics. A 10 % discount (net of booking fee) is available to customers who have attended 2 or 1 previous Electric Picnics.
Loyalty Ticket Codes will be sent via email by Ticketmaster to those who have opted in to receive communications from Ticketmaster. Those who have not opted in can apply to receive a discount code via the process outlined on the Kaleidoscope Festival website. Discount codes are valid for a limited time and will no longer be valid for use after Midnight on Sunday 12th of May. For full loyalty discount scheme terms and conditions please see kaleidoscopefestival.ie.@
Editors' notes : Stages
Main Stage – entitled Main Stage
Second Stage – entitled "Zozimus"
Club stage – "Jerry Fish Electric Sideshow"
"The Big Hooley" stage – spoken word by day to trad music by night
Baby Disco
Hippodrome stage – theatre & comedy by day to "Cinema Under The Stars" by night
Teen spoken word programme: 4 x stages in the walled garden
Junior spoken word programme: 4 x stages in the fairy fort
Scrumdiddlyumptious Festival Food