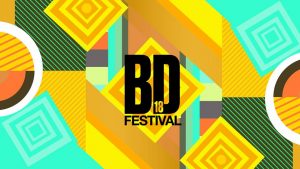 BD Festival 2018 – BYO Festival is Embracing New Legislation on Good Friday
Glendalough House, Co. Wicklow
BD Festival returns for its 11th year taking place on 30th March 2018. For the first time ever, the Festival will be opening its gates to revellers with the addition of a fully stocked bar on Good Friday. The festival originated when prohibition ruled with a BYO (bring your own) policy for all ticket holders, however now with the introduction of the new licencing legislation, the organisers say it will bring the festival to a new level.
"For the last ten years we have been one of the few events taking place on Good Friday. The festival began as a very small event in 2008 with just 400 people and in 11 years it has grown to 4,000, becoming a firm fixture on the Easter calendar.  Due to the country's strict licensing laws for Good Friday, we introduced BYO which proved incredibly popular. We will continue to operate this policy however we welcome the new licensing legislation which means we can provide full bar facilities, which will give festival goers even more choice and enhance their experience and enjoyment  " Brian McDermott, Festival Promoter
This year's line-up includes: The legendary Kerri Chandler, one of house music's originators, Belgian house DJ The Magician, for his first 2018 gig on Irish shores, Perc, an internationally touring DJ and live act, label owner and one of the most respected producers in modern electronic music, Boots & Kats,  distinctive disco and funk duo guaranteed to move the crowd with their eclectic set, Fleetmac Wood, a DJ collective dedicated to re-edits and originals of Fleetwood Mac,  crowd favourite  90's tribute band Smash Hits  need no introduction and Bingo Loco, bingo with a difference including with rave rounds, CO2 guns, confetti cannons, conga lines and dance offs.
And it's not just about the music, as always BD Festival will have an array of top class food stalls to tempt and feed the hungry in the specially designed Food Market. Should you forget a hat or need a pair of wellies, a selection of stands will be there on hand to cater to your every need!
The location of Glendalough House, on fifteen hundred acre estate of mountainside, woodlands, pastures, rolling parklands and historic buildings located in the heart of Wicklow, is the perfect backdrop to Good Friday festival celebrations.
Why not have some fun on Good Friday, be sure to book early to avoid disappointment.
Kerri Chandler – The Magician – Boots & Kats – Perc – Fleetmac Wood – Bingo Loco – Smash Hits – Le Boom
ENDS
Subject to licence
Tickets are available on Eventbrite.ie and are currently priced at €45.00 + €4.50 Fee
Getting There
A bus service will be operated from Dublin and details of this will be released in due course on the Facebook page. Limited parking will be available along with a taxi drop off point.
Ts & Cs Apply
The festival is Strictly Over 18's. Government I.D. is required and will be checked. Tickets are non-refundable.