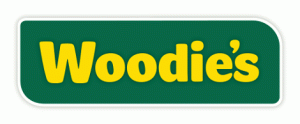 Woodie's is the nation's favourite paint retailer
Four Shades of Grey: Woodie's reveal the nation's favourite paint colours, both indoors and outdoors
And the most painted room in the house
It's official – Woodie's is the No. 1 paint retailer in Ireland.  In a survey carried out by Ipsos MRBI Omnipoll in March 2018, Woodie's came out on top for customers over the last 12 months based on overall purchases and awareness, beating competitors Topline, Homevalue, Albany, B&Q and Homebase.
And Woodie's can now reveal that the nation's favourite colour for interiors is  grey. Four out of the five top selling colours, is a version of grey with Dulux Silverwood, Calm Cloud and Dapple grey dominating the paint colour chart! Long gone are the red feature walls – teals and navys are the hero statement colours of the moment, these 'dark neutrals' can actually make a space feel cosy and relaxing.
And it turns out the Irish love to keep their home looking fresh. According to Woodie's their customers generally paint at least one room every two years with the living room appearing to be the most popular room to paint every year closely followed by kitchens and the main bedroom. When it comes to outdoors, the nation still favours magnolia as their number one colour choice followed closely by warmer shades of grey and olive.
There are over 2,000 paints to choose from in Woodie's, brands include Woodie's, Dulux, Moda, Fleetwood, Johnstone's and every type of ready mixed paint. Speciality paints include Chalky Paints which are becoming more and more popular with budding interior experts looking to update old furniture. Update an unloved kitchen wall with Blackboard paint and never forget another appointment! Other speciality paints include universal surface paints, high-heat paints, magnetic paint, glitter effect, stone effect and metallic paints.
ENDS
For more information: lindsey@lhpublicity.ie 01 497 0313
Notes to editors:, Woodie's is Ireland's market leader in DIY, home and garden, trades nationally from 35 stores nationwide and is the only DIY retailer to offer customers the option to buy online or 'reserve and collect' at woodies.ie.  Woodie's vast range includes paint, gardening, plants , DIY, Christmas and most recently a contemporary kitchen range with a design consultancy service. Their focus is on providing their customers with expert help and advice on all things home and garden along with a warm welcome and an inspiring product range. Woodie's is part of the Grafton Group PLC.