Ends week at #8 in UK Charts
Halfway to Paradise is his 39th Top 40 album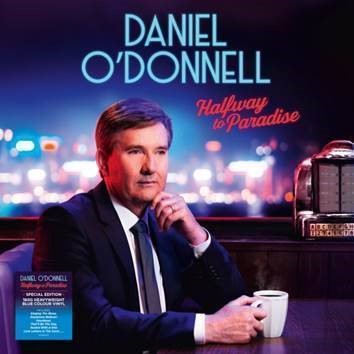 Click here for full album – Halfway to Paradise
Building on an expansive music career spanning almost 35 years, Daniel O'Donnell's latest album HALFWAY TO PARADISE has ended the week at #8 in the UK charts.
Released by DMG TV last week, HALFWAY TO PARADISE is a 3CD/60 track set plus a 16 track Vinyl LP which recaptures the popularity and fun of Daniel's rock 'n' roll recordings. HALFWAY TO PARADISE also includes a 'live in concert' section featuring several tracks previously unreleased on CD.
Daniel O'Donnell is now one of the Ireland's most successful recording artists – earlier this year he broke his own world record by becoming the first recording artist to chart at least one new album every year in the Artist Albums Chart for 32 consecutive years. During his career, Daniel has now amassed 39 Top 40 albums, including 17 Top 10 albums with 15 of them this century – a feat not achieved by any other recording artist.
In 2003 Daniel recorded a Rock 'n' Roll trilogy, an album that would take him to a whole new listening audience and sold out his spectacular live tour The Rock 'n' Roll Show. HALFWAY TO PARADISE recaptures the fun and popularity that those albums generated.
This October has been a very busy month for Daniel, as he has been touring his Gold Hits Tour around the UK, planning for his next UK tour is currently underway and will take place there October 2020.
Irish fans will be delighted to hear that Daniel will be heading back to the Gleneagle INEC Arena in Killarney for a four-date run in the latter part of September 2020.
Gleneagle INEC Arena, Killarney :
Thu 24th, Fri 25th, Sat 26th & Sun 27th Sept 2020
Tickets On Sale – Sat 30th November 2019.
Daniel will return to the iconic Dublin Convention Centre, for a 2 date run, with the long awaited return of his full blown Christmas show.
Convention Centre, Dublin
Sat 12th & Sun 13th Dec 2020
Tickets On Sale – Sat 25th April 2020
Starting out in the early 1980s Daniel O Donnell became a household name across Ireland and the UK by the mid 1990s. His first chart hit in the UK was with I Just Want To Dance With You in 1992. With millions of record sales, in 2002 he was awarded an Honorary MBE for his services to the Music Industry. His popularity has spread to America and Australia and earlier this year he was inducted into the prestigious Country Music Hall of Fame making him only the second Irish performer to receive this honour.