U2
eXPERIENCE + iNNOCENCE Tour 2018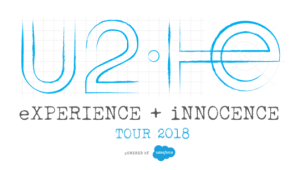 ADDITIONAL BELFAST DATE ANNOUNCED 28th October
FANS SECURE TICKETS FOR SOLD OUT HOME SHOWS
All tickets for U2's eXPERIENCE + iNNOCENCE Tour Belfast date, as well as for their four Dublin shows, sold out this morning, with delighted fans taking to social media to express their excitement at seeing the band bring the tour home later this year. And due to overwhelming demand, Live Nation and MCD have now confirmed a second and final show for Belfast on 28th October 2018, with tickets on sale from 9th February.
More
@KieranKelly1988 – Got my U2 ticket. It's Belfast but I will follow #U2eiTour #U2
@YolandaZaw – Here I am, getting papped outside the @3arenadublin with my @U2 tickets!!  #U2 #u2songsofexperience
More
More
@ada102  Just got two standing for Monday #praisebono #U2
@CarlMullanYEOWWWWWWWWWWWWWWWWWWWWWWWWWWWWWWWWWWWWWWWWWWWWWWWWWWWWWWWWWWWWWWWWWWWWWWWWWWWWWWWWWWWWWWWWWWWWWWWWWWWWWWWWWWWWWWWWWWWWWWWWWWW #U2eiTour2018 @U2
Tamara de Paula from Brazil was among fans who bought tickets in person at Dublin's 3Arena this morning – "I should be lying on a beach right now, I have missed my holiday to get a ticket.  I am really excited."
Second in line was Gregory Fitzsimons, who secured tickets for his 79th U2 show – "I am also going to the first show in Tulsa. I've seen them play in LA, Boston, Connecticut. I even flew home early from honeymoon so I could fly out to Madison Square Garden. My wife still hasn't forgiven me!"
Another fan Patricia van der Velde added "I live in Ireland because of U2, I moved here because of them because I am such a fan. My husband is even from Cedarwood Road!'
And Montse Fraga, who attended her first U2 gig in 1993 said "There is still the same buzz, perhaps even more now, I am so excited".
Following last year's acclaimed stadium run with The Joshua Tree Tour 2017, the eXPERIENCE + iNNOCENCE Tour will see U2 return to indoor venues, picking up where 2015's ground-breaking iNNOCENCE + eXPERIENCE Tour left off. The eXPERIENCE + iNNOCENCE Tour follows the recent release of the band's 14th studio album Songs of Experience. Just as Songs of Experience serves as a companion piece to 2014's Songs of Innocence, the eXPERIENCE + iNNOCENCE Tour is a sequel to the 2015 tour. As with every U2 tour, this new arena production will explore the latest in cutting-edge technology. The eXPERIENCE + iNNOCENCE Tour is a development of the unique and innovative staging of the 2015 tour, featuring multiple performance areas, a state-of-the-art sound system, plus an all new super high-res LED screen nine-times the resolution of the 2015 screen.
Tickets for the additional Belfast show on 28th October 2018 will go on sale beginning Friday 9th February at 9am.  All General Admission floor tickets will be paperless and available online or at the relevant venue box office only. Reserved seating tickets will also be available to purchase from 9am on Friday 9th February both online and via Ticketmaster outlets across the country. See a full list of outlets here
For complete tour and ticket information, visit: www.U2.com www.livenation.com
For press images, visit www.U2.com/rmpphoto