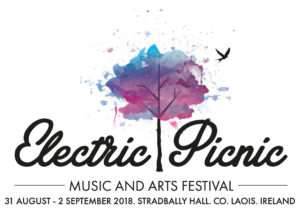 TRAILER PARK
ATTENTION BEBE / INTERSKALACTIC / GALWAY STREET CLUB / STOMPTOWN BRASS / ELAINE MAI / ELVIS THE WAY IT WAS / LUNA BOYS / JUNIOR BROTHER / CC BREZ / PRISON LOVE / KATIE LAFFAN / FATHER TED EXPERIENCE / BRIAN WHITTINGTON / LARKFIELD FOUR / AINDRIAS DE STAIC AND THE LATCHIKOS / MUTEFISH / ROBIN JAMES HURT / THE ACKS / LOOSEYSMOKES (AERIAL THEATRE) / AND MANY, MANY MORE
In every festival there is an obscure tent or an absurd performance that reduces the most terse-lipped visitor to a hearty chuckle. Trailer Park is a whole hamlet devoted to this. Several dozen creations are stuffed into caravans, horseboxes, mobile homes, shipping containers, and repurposed vehicles. With a love of the ridiculous and fantastic, it is also a creative greenhouse for artists to present large scale installations.
The main stage is a repurposed mobile home – the front has been taken off, and the bands make best use of a bedroom, kitchen, lavatory and lounge to perform in. Among those taking to the stage (between noon till bedtime for the insomniacs) are bands made for partiers – Galway Street Club, Interskalactic, Attention Bebe, Stomptown Brass, Mutefish – as well as melody-makers such as Katie Laffan, Elaine Mai and CC Brez, experimental folksters Junior Brother and Aindriais de Staic.
It's not just the music either… Overhead after dusk, a sky spectacular of trapeze, aerial acrobatics and zip-wire antics by the show-stopping award-winning theatre group Looseysmokes – has everyone peering upwards….
Cathy Davey and pals return each year with their four-legged creatures to My Lovely Ranch, most recently a new herd of goats. Franky Fingers (greyhound) and Deputy Henry Hell (Jack Russell minus a leg) are regulars, as is their widely loved Silent Disco and Horse Box Disco. Performing among the hay-bales will be Robin James Hurt, The4, Prison Love, Cathy Davey and Pete Pamf; and there is a rumour of a daily comedy set from several of the comedians at the festival – but all the jokes must be about animals!.
Back for its second year to Electric Picnic is The Hothouse, an invigorating and mouth-watering prospect: a restaurant with full service, housed inside a giant poly-tunnel, dressed by Europe's most incredible salvage brokers The Store Yard and featuring 10 of Ireland's most exciting chefs and makers… and it is bang in the heart of Trailer Park. Whether haloumi sticks from Toonsbridge, lobster from the coast of Mayo, Indian street food from The Chat Shop or spoiling cakes from Diva Boutique Bakery – This is the future of food and it comes in style. Last year saw John & Sally McKenna Awards given to two of our chefs. Bookings can be made on hothouseeatery@gmail.com.
The greater part of Trailer Park, though, is made up of a gaggle of creations from our Art Caravan Challenge and joining the circus in 2018 are TatVan, where tattoo artist Chuck xxxx set up studio in a beaten-up ABI Monza 450; Gangsta Granny, where elderly ladies pass the time crocheting and knitting; SpiceBox, where tunes and vintage collide; The Seagull's Nest, where beach-combing gulls hoard rubbish in nests on top of a disused seaside holiday home; War Flower, where florists make spectacular head-dresses in a vintage horse truck in aid of UN refugee agency; Rainbow Top, where architects have taken on a custom-built barrel top caravan with a contemporary surprise; the floral wonderland of Mirabili, a vintage caravan bedecked with an interior of thousands of mirror-balls squares; and, from the makers of last year oh-no-it's-not Pantovan, comes Quizivan, a gameshow quiz game inside a caravan.
These join the best creators from the last five years: mad inventor David Sumray ('Anachronica' is his) brings us The Forgotten Circus, a steampunk contraption with a narrative of slavery and worship; Yuletide favorite Tow Ho Ho brings us an inebriated Santa Claus experience and a terminal cycle of carols; the tummy-clutchingly brilliant sardines-in-a-tin singalong Caravanaoke; the over-zealous jail supervisor Terrible Terry who can't help incarcerating passers-by in a caravan prison for minor discrepancies; a new enlarged Sensorium installation from visual artist and creator Joel Greenbury; the Festival favorite religious zealots 10 Minutes of Missionary who are on hand to stamp out hedonism, a new chapter for 'The Improbable End of Owly' (Dr Mindflip's 18th Century Stagecoach adventure), the caravanistas at Narnia turn a new chapter in the fairytale; the glamour and exotic Brazilian head-dress girls from Turbante return; a bible-bashing preacher visits the baccy-chewing inhabitants in the Redneck's mobile home crib.
We always said it makes no sense….
ENDS
Subject to licence 
Further information please contact: LHP on info@lhpublicity.ie | 00 353 1 497 0313