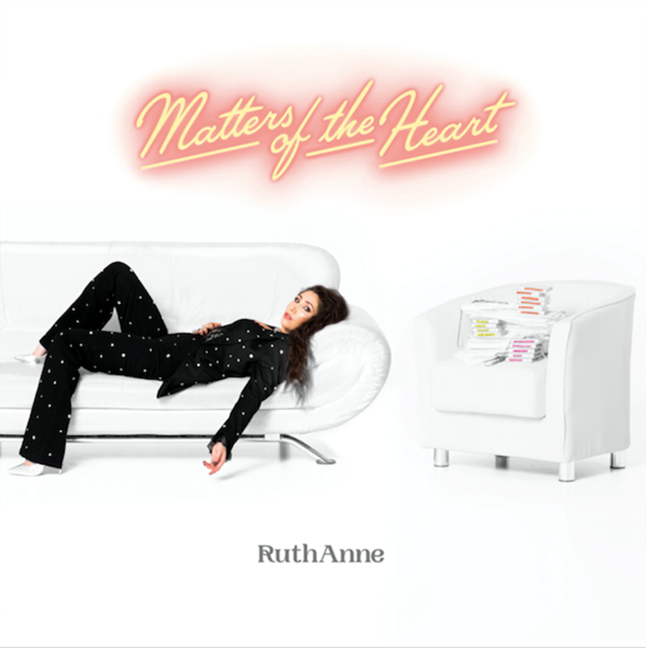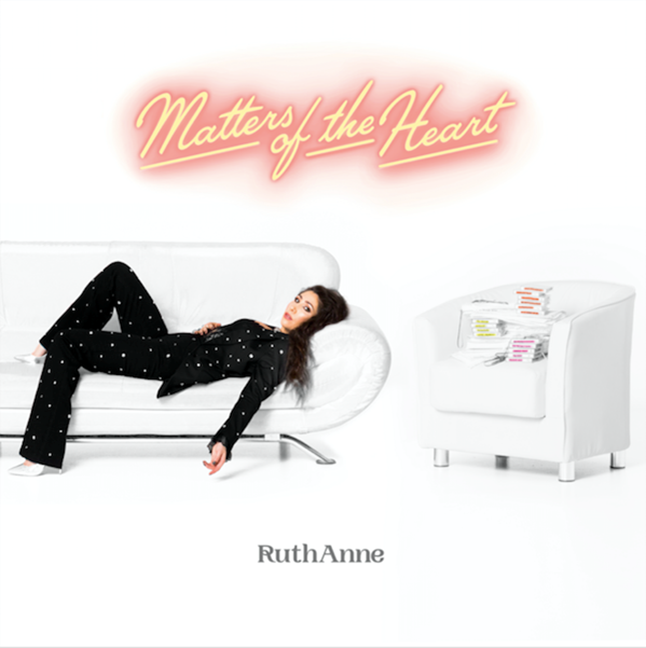 BUY AND STREAM HERE
WATCH RUTHANNE'S SUPERB LIVE SESSION OF NEW TRACK 'TAKE WHAT I CAN GET' NOW HERE
CATCH RUTHANNE LIVE AT GREEN ROOM AT THE ACADEMY OCTOBER 10th – TICKETS ON SALE HERE
"Wow. Completely blown away. Went to see RuthAnne's album showcase. She is next level. She is no longer RuthAnne, her new name is TRUTHANNE!" – MISTAJAM
"Her voice alone has me melting" – PAPER MAGAZINE
"A prolific songwriter, RuthAnne is now stepping out behind the writing desk and releasing her own music." – WONDERLAND MAGAZINE
"After more than a decade writing hits for pop superstars, the Dublin-born artist is stepping into the spotlight." – OFFICIAL CHARTS
[4TH October 2019] Today, award-winning songwriter and singer RuthAnne shares her incredible debut album 'Matters Of The Heart' – via independent record label, The Other Songs and distributed through AWAL. She will play at Green Room at The Academy next week, Thursday 10th October.
RuthAnne also gives us the mesmerising live session of new song 'Take What I Can Get'. Filmed and recorded with a full band and strings at the renowned Church Studios (Paul Epworth) in North London – the session was musically directed by Troy Miller (Amy Winehouse, Laura Mvula, Adele, Rag'n'Bone Man, Jamie Cullum, Gregory Porter).
Along with 'Take What I Can Get', the album includes wildly successful singles 'The Vow', 'Take My Place', 'Liquid', 'It Is What It Is', 'Love Again', 'Superman' and 'Unrequited', plus seven more exceptional new tracks. 'The Vow' was played during ITV 2's huge TV show Love Island 2019 Final – it was shazamed fifteen thousand times within the hour and reached #1 in the main Irish iTunes chart and #37 in the UK chart. On release, 'Love Again' featured in 13 'New Music Friday' Spotify playlists globally including UK and US.
RuthAnne's material has now amassed over fourteen million streams so far. RuthAnne has received accolades from media including The Independent, New York Times, Paper Magazine, The Times, Billboard, Official Charts, Wonderland, Complex, Idolator, DIY and CLASH.
From having a sheltered life, growing up in Ireland to moving to the dazzling city of Los Angeles in her early 20s to pursue a career in songwriting, RuthAnne experienced many major ups and downs. The album illustrates her evolution into a strong, independent woman in both her personal and professional life; finally stepping from being the writer behind the hits to an all-encompassing recording artist with an effortless, powerhouse vocal.
RuthAnne explains: "I wrote a lot of my album 'Matters Of The Heart' after living in LA for five years and returning to home, Ireland & London. The album is in three sections and it follows the timeline exactly of when each of the songs were written. It's the journey through my 20s… first is 'HEARTBREAK', to 'HOPE', then to 'LOVE'. Becoming a woman, learning the lessons from bad toxic 'feckboy Hollywood' relationships I got into in LA. It's a growing up album and anyone who knows me as a person, knows I deal with matters of the heart in every encounter."
'Matters Of The Heart' takes you through RuthAnne's story, chapter by chapter, with production by Fraser T Smith (Adele, Tom Grennan, Stormzy), Malay (Lorde, Frank Ocean, ZAYN), Future Cut (Little Mix, Shakira), Noah Breakfast (Ty Dolla $ign, Christine And The Queens) and Sonny J Mason (Kimbra). It blends the classic, authentic songwriting that she was raised on with the pop sensibilities of the artists she's worked with, to her favourite Nineties R&B artists.
She continues: "I'm a deep person who secretly wants to be a therapist and is fascinated with human nature in relationship. Why we treat each other the way we do; why we hurt the ones we love sometimes; why we stay with the wrong person; why we are afraid to let go; why are we never satisfied and why we find it so hard to love ourselves. Throughout my album you see a growth from brokenness to strength, from naivety to wisdom from complicated to clarity all through the nostalgia of classic soul, R&B, pop songs."
RuthAnne's outstanding career spans back to being 17-years-old, penning music for huge pop artists, including JoJo's 'Too Little Too Late,' for which RuthAnne achieved the ASCAP Songwriters 'Best Pop Song' award. From then she wrote a string of massive records from Britney Spears' RIAA platinum-certified 'Work Bitch' to One Direction's 'Where Do Broken Hearts Go', Pentatonix's 'Misbehavin' and Martin Garrix & Bebe Rexha's 'In The Name Of Love'. In 2017 she co-wrote 5 songs on Niall Horan's debut solo album 'Flicker,' including US #1 hit 'Slow Hands' – which she received a BMI award for – and as a songwriter her songs have been streamed over 4 billion times. She has also co-wrote Niall's latest single 'Nice To Meet Ya'.
She previously won 'Woman Of The Year' at the Irish Tatler Awards and was VEVO's 'Artist Of The Month' last year. She also performed for MTV PUSH live event in London and was a part of global clothing brand Barbour International's summer session series this year, which was hosted by James McVey (The Vamps).
RuthAnne has also supported Alanis Morrissette, Niall Horan, Third Story, X Ambassadors, Hozier and Keywest on tour. This year she headlined Blue Balls Festival (Switzerland) and shows in London and Ireland as well as performed at Live At Leeds, Liverpool Sound City, The Great Escape in the UK. She's also performed at Kaleidoscope Festival (Ireland), Home Festival (Italy), Sziget Festival (Hungary) and sold-out an intimate show at The Hotel Café (Los Angeles, USA). RuthAnne is also set to perform at Tenement Trial Festival in October.
'MATTERS OF THE HEART' TRACKLISTING
Take My Place
Unrequited
Take What I Can Get
You Don't Have A Heart
Superman
It Is What It Is
Too Young
Liquid
Waterfalls (Live At Drury Lane Studios)
Love Again
MY MIND (interlude)
For The One I Love
Honest Man
The Vow
Move Me
RuthAnne online:
TWITTER | FACEBOOK | INSTAGRAM
For more information please contact