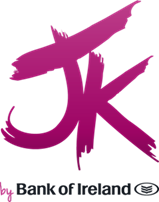 LOUIS WALSH JOINED BY NEW JUDGE DOIREANN GARRIHY
The hunt is on for Bank of Ireland Junk Kouture Young Designers 2019
If you're a secondary school student and think you have what it takes to craft outrageous couture designs from junk, we want you to get your creative juices flowing and enter next year's competition
Ireland's renowned recycled fashion competition Bank of Ireland Junk Kouture is back for its ninth year. Schools the length and breadth of the country were delighted with the announcement today that radio presenter, comedian and social media personality Doireann Garrihy will join this year's judging panel alongside Louis Walsh. Doireann will join Ireland's Got Talent and former XFactor Judge, Louis Walsh, who will once again return to bring his invaluable judging experience and insight into the entertainment industry to the panel, together with fashion educator and experts Tracey Fahey and Jane Leavey, and former winner LSAD graduate Stephen McLaughlin.
Speaking on joining the judging panel, Doireann Garrihy said, 'I am delighted to be involved in this year's competition. I have always been in awe of the talent, passion and creativity shown by the students involved in Bank of Ireland Junk Kouture down through the years. I can't wait to see their designs up close and to meet potential designers of the future!'
'I love this competition, the students are unbelievable, I cannot wait to see what talent is on offer this year.  I am certain that some of the talent we have seen over the last few years will become future designers of the century. I'm really looking forward to working with Doireann this year' Louis Walsh.
So its time to get creating and cutting, and forage all that everyday junk to create a masterpiece for this all-Ireland leading fashion and art competition for secondary schools. As always we lay down the gauntlet and challenge the students to create unique, original and innovative outfits from recycled materials and rubbish.
Secondary school students from the five regions North, South, East, West and Dublin are invited to enter this year's competition. Students will need to have their Bank of Ireland Junk Kouture entry design ahead of registration which opens on the 7th of January. For more information on how your school can get involved visit www.boijunkkouture.com. The competition is open to all students who are attending secondary school.
Last year we saw a phenomenal 1500 students enter the competition which was whittled down to just 80 for the grand final in 3Arena. Who will be crowned the winner for 2019?
Regional and Final Show dates:
North – Derry 1st March; East – Helix 4th: March, Dublin – Helix 5th March;
West -Castlebar 7th  March; South – UCH 8th March.
Grand Final – 3Arena 2nd May 2019
Registration opens: 7th January 2019
Registration closes: 21st January 2019
Website: www.boijunkkouture.com
Instagram: www.instagram.com/boijunkkouture
Facebook: www.facebook.com/boijunkkouture
Email: info@junkkouture.com
For more information contact LHP lindsey@lhpublicity.ie or aoife@lhpublicity.ie 01 497 0313