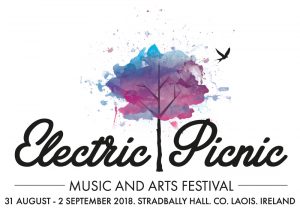 Fuelling Right for Success 
Minister Eoghan Murphy and world championship canoeist Jenny Egan to launch this year's cycle
The Complete Natural is delighted to announce its sponsorship of this year's Tour de Picnic. Eoghan Murphy TD Minister for Housing, Planning and Local Government will kick off the launch of the tenth Tour de Picnic this week alongside athlete Jenny Egan – the most successful active canoeist in the country  – also an enthusiastic cyclist and avid fan of Electric Picnic.  A keen cyclist, Eoghan Murphy intends to cycle the full 80km route, assuming no major government business crops up to conflict with the cycle date 31st August!
Dairy is the perfect partner for training and sport and milk stops will help to keep the cyclists well hydrated on their way to the picnic. Zoe Kavanagh CEO of the National Dairy Council said "We are really excited to announce our title sponsorship of this year's Tour de Picnic particularly as it celebrates its 10th Anniversary. Dairy is such a great food to support exercise and training and we have worked with a number of Ireland's major athletes and sports people over the years who are great supporters of dairy in the diet.  We are also delighted to be supporting the three great charities for this year's Tour – Jack and Jill Children's Foundation, ISPCC and Headway Ireland"
For its tenth birthday celebrations, Tour de Picnic organisers are shaking it up a bit. Volunteers still have a choice between an 80km cycle or a 15km run, however the new route will cycle along a new Greenway and Blueway. After departing Tallaght Stadium, the cycle will ascend towards the Blessington Greenway and will continue on meandering through some of Ireland's biggest dairy farms and the picturesque village of Brannockstown. The last hurdle will embark along the prospective Barrow Blueway before reaching Stradbally. There will be some much-needed sustenance along the way in the form of dairy treats and milk fuelling stops!
The run is also proving increasingly popular with Picnickers, with an adventurous route running through 15 different farms and various estates, traversing freshly harvested barley fields, mysterious pathways and woods before hitting the festival site just in time for lunch! And 80% of the run is off the main road.
Tour de Picnickers will enjoy beautiful surroundings while raising funds for a charity of their choice: ISPCC, The Jack & Jill Foundation or Headway. This marks another departure from previous years; cyclists and walkers can now choose which one of the three charities they would like to fundraise for, so if the ISPCC is close to your heart, you can fundraise specifically for that charity. Everyone is invited to sign up now and secure their ticket to the festival while raising money for these very worthy causes.
The initial deposit is €50 which secures your ticket as well as your place in the 80km cycle or 15km run provided that you reach the fundraising target (this deposit contributes towards your fundraising total). Each individual must raise a minimum of €395. There is also a limited amount of student places. Students only have to raise €350.
Those who take part in Tour de Picnic will be well looked after with official Tour de Picnic jerseys, refreshments throughout the cycle or run, burger and beer on arrival, baggage transfer, return bus ticket, return bike transfer and a full support team along the route.
"I can't believe it's been 10 years since our first Tour de Picnic. The event has grown every year, now with over 1k taking part and 150 volunteers lending their support. We are delighted to welcome the Complete Natural as our new Title Sponsor for 2018. With our new guest hospitality, this year is set to be bigger and better than ever and we have plenty of surprises still to come. And we are delighted to have a world class athlete like Jenny Egan to join us this year, it will certainly raise the bar for those competitive cyclists.  I would like to thank Festival Republic, Jack and Jill Children's Foundation, ISPCC and Headway Ireland and all our partners for helping us make this event happen every year. " Brian McDermott Organiser.
For further information please visit :
www.thecompletenatural.ie  #thecompletenatural  @thecompletenatural
Get on your bike, sign up and start your training!
The National Dairy Council's (NDC) objective is to communicate to all ages, the nutritional benefits of Irish dairy when promoting a healthier, active lifestyle. The NDC has taken a new step towards educating and supporting younger audiences through the recent consumer facing campaign 'Irish Dairy – The Complete Natural'. At such a pivotal time for young women, this campaign highlights dairy's essential nutritional, fitness and health benefits necessary throughout life. To reinforce this commitment, Irish Dairy – The Complete Natural will be the lead sponsor of this year's Tour De Picnic, a charity cycle and running event which will see over 1,000 people raise money for some fantastic charities.
To register for Tour de Picnic click here