INTERNATIONAL HAIR STYLIST FROM DUBLIN LANDS VOGUE COVER WITH KIM KARDASHIAN WEST
LA based Irish hair stylist Andrew Fitzsimons is behind the latest Kim Kardashian look on the cover of this month's Vogue issue. The magazine is on sale now.
It is a dream come true for the 30 year old Irish man who has become one of Hollywood's hottest properties, with a client list second to none from Bella Hadid to Adele.  Born and raised in Dublin, Andrew started his career in Paris and has spent the last decade living and working between New York and Los Angeles working both in fashion and with his long list of celebrity clients including the most famous family in the world, the Kardashians.
Andrew recently styled a number of clients for the Golden Globes including Kendall Jenner. This month he was charged with creating the hair look concept for the beauty shoot for the cover of Vogue magazine.  Renowned photographer Denis Leopold was on deck photographing the cover while Mario Dedivanovic provided his expert make up artistry. Denis is no stranger to Vogue covers having shot many covers with Rhianna.
The vision for the shoot is based on 90s supermodel glamazon, inspired to show Kim's super glam side where Andrew focused on volumising the star's hair for the 90s ultra-glam look.  Andrew has spent his entire life buying Vogue, idolising the supermodels featured in the magazine, in particular in the early days when he was living in Paris when he had very little money.  It is apt that his first cover is supermodel inspired with the most famous woman in the world – Kim Kardashian West.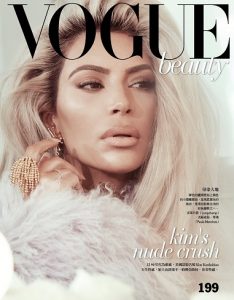 Further information: LHP 01 4970313 lindsey@lhpublicity.ie  087 256 2835