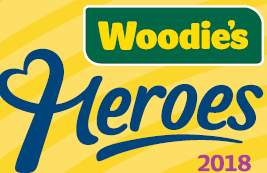 Woodie's Heroes 2018 aims to top a million 
Be A Hero, Raise a Smile!
Last year as part of a major charity fundraising drive, Woodie's secured the rights from David Bowie's estate to record and release one of the singer's most iconic tracks – 'Heroes'. The Woodie's Heroes campaign has seen colleagues, friends, customers and suppliers put in a tremendous effort to "Raise a Smile" over the past four years.
This year Grammy Award winning band Foo Fighters have granted their permission to record 'My Hero' as part of this year's activities. Irish band Wild Youth have joined forces with the Woodie's choir to record the track.
A 50 strong Woodie's choir joined Wild Youth in Westland Studios where luminaires such as U2, Bob Dylan and Sinead O'Connor have recorded over the years. They were joined by plucky youngsters Cathy May Foote (9) and Lorna Dolan (11) from Down Syndrome Ireland, who were beyond excited to take part and meet their heroes.
"Temple Street, Down Syndrome Ireland, Make-A-Wish and Jack and Jill are four amazing charities, doing unbelievable work for children in Ireland. They deserve as much help as we can give them, so we were delighted when the Woodies Choir asked us to get involved. We had a great day, there was some serious talent in the group and we're looking forward to you hearing our version of Heroes. Dig deep and support this great cause." Conor O'Donoghue – Wild Youth.
The single will be released on 23rd July, you can show your support by downloading on iTunes or woodies.ie, you can also visit any Woodie's store nationwide to donate and pick up your Woodie's Heroes temporary tattoo. Take a pic of your tattoo and share it through the "Wear and Share" social media campaign on the Woodie's Facebook page.
And the fundraising doesn't stop here. From now until the 24thAugust, these unsung heroes will continue to raise much needed funds for four major children's charities through a massive array of activities in and out of the work place, including a gruelling 1,600km cycle across the country, aiming for miles of smiles!
This year promises to be extra special, as Woodie's aim to reach the million euro milestone. Over the last three years they have raised over €750,000.00 avidly fundraising across their 35 stores for their children's charity campaign 'Woodie's Heroes'.
The four charities who will be very worth recipients this year are;
Temple Street, Down Syndrome Ireland, Make-A-Wish and Jack & Jill Foundation.
'The Woodie's Heroes campaign has been an outstanding success and we are very excited at the prospect of raising one million since we started three years ago. We are also celebrating our 30th Birthday, so it's a double celebration for us!
'Wild Youth are one of the biggest up and coming acts in the country right now so it is a real privilege and exciting to have them on board. And of course we have to mention the incredible support we get from colleagues, friends, customers and suppliers to bring this campaign alive – it's a true collaboration and we are so grateful for all their support over the past four years' Woodie's CEO Declan Ronayne.
Each of the four charities have chosen their own hero to represent them throughout the campaign:
MAKE A WISH
From last year's fundraising, Woodie's Heroes funded 18 wishes for children and their families to go to Disneyland Paris with Make-A-Wish Ireland. This year's Hero is Macie, she is 8 years old and living with a heart condition. She had the time of her life when her wish to go to Disneyland was granted, she got to have lunch with her favourite princesses and her special badge meant she could skip all the queues and feel like royalty herself! Learn more about Make a Wish on the Woodie's Heroes charity videos released every week on Woodie's Facebook page on August 16th.
JACK AND JILL
Last year's fundraising allowed the Jack & Jill Foundation to increase the age restriction from 4 to 5. Luke is representing the foundation this year, he is 2 years old and has Congenital CMV which means he requires specialist care which the amazing Jack & Jill nurses provide. Luke's family are extremely grateful for Jack & Jill; 'This home nursing time allows us to catch up with day to day tasks and most importantly to spend quality time with Matthew, Luke's older brother. This time is precious to us as a family'. Learn more about Jack & Jill on the Woodie's Heroes charity videos released every week on Woodie's Facebook page on July 26th.
TEMPLE STREET
In 2016 Woodie's Heroes contributed to the opening of a new neurology and renal unit in Temple Street. This year their ambassador is Katie. When she was was just 4 years old, she had a bad fall at home and had to be rushed to Temple Street where it was discovered she had a bleed on her brain. After several weeks in ICU, with her family by her side and incredible doctors and nurses looking after her she thankfully recovered. Katie is now doing really well and her family are so grateful to everyone who looked after her. This year Woodie's Heroes plan to fund the purchase of vital surgical equipment for keyhole surgery which is used to treat many injuries. Learn more about Temple Street on the Woodie's Heroes charity videos released every week on Woodie's Facebook page on August 9th.
DOWN SYNDROME IRELAND
Down Syndrome Ireland is a new charity recipient of Woodie's Heroes campaign this year and the funds raised will go towards Down Syndrome Ireland's educational support for children with Down syndrome. Their ambassador is Mia, who is 8 years old and attends main stream school, where she is doing really well as an active and popular class participant. She is very sociable and goes to the cinema with her friends and arranges lots of play dates. Learn more about Down Syndrome Ireland on the Woodie's Heroes charity videos released every week on Woodie's Facebook page on August 2nd.
ENDS 
For more information please contact lindsey@lhpublicity.ie or aoife@lhpublicity.ie 01 4970313
Issued on behalf of Woodie's Follow Woodies on:
Twitter https://twitter.com/WoodiesIreland
Facebook https://www.facebook.com/WoodiesIE/
Instagram https://www.instagram.com/woodies_ireland/
#WoodiesHeroes2018