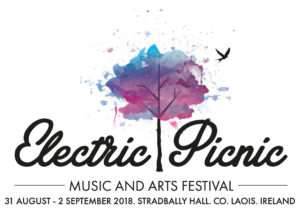 Electric Picnic
Supports local community
As the last rays of the summer sun shines on Stradbally, 55,000 picnickers descend on the 600 acres of rolling fields of Stradbally Hall to soak up, the music, comedy, spoken word and much more.  Electric Picnic is ever appreciative of the support from the residents of the village and surrounding areas and believes in giving back to the local community. And today organisers have the opportunity to say thank you as they provide funds to Youth Work Ireland Laois to help keep their afterschool programme going.
Youth Work Ireland Laois is the only group that provides youth support to the entire county of Laois; The After School Programme was launched last year and is the newest initiative at Youth Work Ireland Laois. It has space for 30 children per day and is made up of children from 5th and 6th class. Three afternoons a week it provides a unique space for these children, where they can have something to eat, do their homework, make new friends, and have fun!
As well as donating to the organisation, Electric Picnic have given five very talented children from the programme an active role at the festival to give them an experience like never before, with art, music and spoken word performances in The Hazel Wood area and the Art Trail.
The idea was brought to the attention of festival organisers by regional director Clive Davies who said: Youth Work Ireland Laois are thrilled to have Electric Picnic on board as a sponsor! The Electric Picnic sponsorship will enable Youth Work Ireland Laois to continue providing a service to the young people in Co Laois. Grass roots youth services, such as Youth Work Ireland Laois have seen no significant growth in Government funding over the past few years, which has had a knock-on effect on all of our services.  We see this as a partnership of development, and a partnership which allows us to give the same opportunities to every young person in the county to be on an equal playing field no matter what their personal circumstances might be. On behalf of the young people, staff, volunteers and Board of Youth Work Ireland Laois, I would like to sincerely thank the Electric Picnic for this generous contribution – we look forward to working with you. 
Melvin Benn Festival Director of Electric Picnic Today's young people are tomorrow's, teachers, carers, leaders and visionaries. It's important to encourage and guide young people to achieve their goals and dreams as best they can. Electric Picnic very much appreciates how the residents in Stradbally and the wider Laois community help contribute to an amazing event every year. Youth Work Ireland Laois does a tremendous job of providing support to young people of all ages.  So it gives me great pleasure to be able to donate these funds to ensure that young people in Laois continue to benefit from the after school programme.
Note to editors:
Youth Work Ireland Laois is located in the heart of Portlaoise in James Fintan Lalor House, James Fintan Lalor Avenue, and it's next to People First Credit Union. The bright airy space has been custom designed to incorporate meeting rooms, games areas, the Portlaoise Youth Café, and arts and rehearsal spaces.
Youth Work Ireland Laois is the hub for a variety of different groups and initiatives, including the following:
The After School Programme –Homework and social activities group for 10-12 year olds.
Comhairle Na nOg– Youth Council, giving a voice to young people on issues that affect them.
Laois Youth Arts Platform– Providing a space and support for live arts and music performances.
Splatter– Art based activities and discussion on topics of interest affecting young people.
Girls Talk –Girls 15-18 social group to discuss issues and topics relevant to them.
Transition– Supporting transition from Primary to Secondary, and Secondary to Third level education.
Teenage Drop In– Safe space for teenagers (13-18years old) to hang out.
Senior Network– Network of senior members of Youth Clubs in Laois.
Junior Network– Network of young members of Youth Clubs in Laois.
Footsteps – Getting young people into employment; CV preparation, interview technique, training.
Luck Out– Our new LGBT+ Youth Group, providing a safe space, social activities and peer support.
For more information please contact Deirdre @ Lindsey Holmes Publicity on info@lhpublicity.ie or 01-497 0313