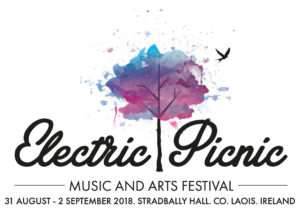 THE JERRY FISH ELECTRIC SIDESHOW
Le Galaxie – The Frank and Walters – Mick Flannery – C.C. Brez – The Minutes – Loah – Engine Alley Jack O'Rourke – Murder Capital – Bitch Falcon – David Keenan – Warsaw Radio – Spellbound
 Wood Burning Savages – Pontious Pilot and The Naildrivers – Ceili AllStars – Everything Shook Silverbacks – House of Yoga – The 2 Johnnies plus very special surprise guests.
Returning for the sixth year celebrating "unity through diversity" Jerry Fish's majestic, magnificent and at moments chilling Electric Sideshow delivers all manner of musical pleasures and awes. The unique area promises everything from circus, cabaret, burlesque and sideshow performers from the U.S., the U.K. and Ireland, to some of the hottest acts around. Including the fairest ringmaster of them all, Jerry Fish who is himself renowned for his extraordinary performances!
The Electric Sideshow wouldn't be complete without its dandy concoction of carnival sideshow theatre, so expect unearthly performances from drag icon Veda (Queen of Ireland) Jelly Boy the Clown from Squidling bros.(US), pole-dancing extraordinaire and fire queen Terri Fierce, burlesque performers The Pony Girls, Sideshow Sweetheart Foxy P.Cox, The King of Cabaret Desmond O'Connor (UK) The Dirty Circus, Grim Squeaker's Rogue Gallery and many more.
Also introducing "Sideshow Disco" from midnight to 4am with Mother Club DJs, Get Down Edits, Eddie Kay, Colin Perkins, The Kilo 1977, Warriors of The Dystotheque and much more
The Jerry Fish Electric Sideshow promises once again to be a highlight of this year's Picnic, delivering three debauched days and nights of mind blowing, soul bending entertainment. Keep an eye out for some very special guests at this unique picnic stage.
JERRY FISH
He's one of Ireland's most enigmatic and entertaining performers to the point where the Electric Picnic have now afforded him his own stage. An indie legend and ringmaster of exceptional renown, Jerry Fish has evolved into a showman extraordinaire, capturing the hearts and minds of audiences all over with his now legendary live shows, a unique live theatrical experience that dissolves all boundaries between performer and audience. Jerry Fish blasted onto the Music Scene in the 1990's touring the globe as frontman of alternative rock outfit An Emotional Fish, the band who gave us the indie rock anthem "Celebrate" These days the name Jerry Fish is synonymous with Festivals, Carnival Sideshow, Circus and Theatre. Mr. Fish's genre bending and idiosyncratic style of entertainment has made him a household name within the Irish Music industry. With two Platinum selling solo albums, an MTV award and IRMA Music Award, and a reputation as a supreme and spectacular showman. Be sure not to miss Jerry's now legendary midnight picnic show and end of the world parties.
ENDS
Subject to licence 
Further information please contact: LHP on info@lhpublicity.ie | 00 353 1 497 0313