There's nothin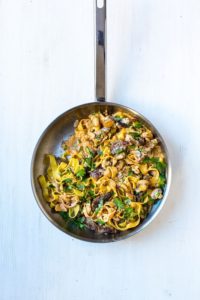 g worse than looking out the window when it's dark and wet outside, and all you want to do is cosy up on the couch by the fire and order a takeaway.
Avoiding a takeaway has never been easier all thanks to the help of Donal Skehan and his tasty Meals in Minutes!
This week Donal is back cooking his own personal favourite meals.
When it comes to cooking, people tend to stick to making what they know. Many people don't like experimenting with new food. But Donal shows how easy it is to make quick and tasty meals in minutes. This week Donal's favourite meals will be sure to go down a treat. With a tasty Beef Stroganoff to Soy and Ginger Fish to Chicken Adobo, there will be something to tickle everybody's taste buds.
Tune into Donal's Meals in Minutes this Wednesday 7th November at 7:30 pm on RTE One.