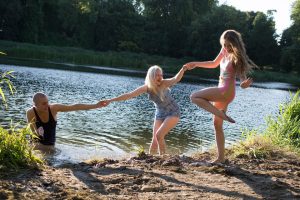 Submerge yourself in the festival's all new lakeside swimming area
Pack your swimming costume! Electric Picnic has now opened its 'lanes' to festival goers on land and water. The Lake is the perfect setting for Olympic swimmers or arm-band enthusiasts to see a new side to the festival. The new area will be located in the idyllic surroundings of the Stradbally Hall estate. Knock off the cobwebs after the night before and take a refreshing dip in an area surrounded by a copse of ancient oak and ash trees.
Adults with the much sought after Electric Picnic ticket can participate as long as they are a competent swimmer, while kids can splish and splash when accompanied by a responsible adult who can swim.
So put the towel down and take a dip.
TERMS AND CONDITIONS FOR ENTRY WILL APPLY
Opening times:
Friday: 2pm -5pm FAMILIES ONLY / 5.30pm-7.00pm ADULTS ONLY
Saturday: 10am-1pm FAMILIES ONLY / 1.30pm-7.00pm ADULTS ONLY
Sunday: 10am-1pm FAMILIES ONLY / 1.30pm-7.00pm ADULTS ONLY