PRESS RELEASE
A Decade of Theatre of Food at Electric Picnic.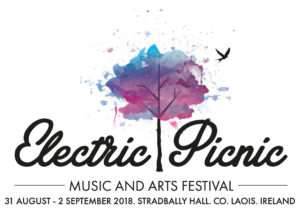 Theatre of Food at Electric Picnic has enjoyed a decade of success as one of the most original attractions at Ireland's leading music and arts festival.
With inspiring food demonstrations, wacky cocktail masterclasses, mind-boggling food discussions and lots more, Theatre of Food puts the theatrics into Ireland's contemporary food culture.
Featuring a stellar cast of the most happening creative talents in modern Irish food, Theatre of Food is where you get to see – and taste – exactly what modern Irish food is all about.
To celebrate our big birthday, we are making Theatre of Food 2018 bigger and better than ever.
For 2018, Theatre of Food will feature two new stages: alongside the beautifully decorated main stage, with bespoke kitchen from Liam Grant Wood Design, there will be a new Workshop Theatre, and a brand new Drinks Theatre.
Curated by McKenna's Guides, and with the support of The Doyle Collection Hotel Group, Theatre of Food will now feature everything from Intelligent Teas to fashion for women chefs, spice bags to Dia de los Muertos cakes, psychobiotics to sustainable fish shopping.
And, of course, the Theatre of Food audience gets to taste the dishes, cooked by Doyle Collection head chef Austin Byrne and his team, and sample the mixologist's magic.
This year, Theatre of Food will for the first time feature a fashion show of ethically-made Irish chefs-wear for women chefs. "For too long, women's chef gear has been simply men's gear with the odd dart" said chef Caitlin Ruth, who commissioned a range of chefs' gear from lingerie designer Ali Wheeler. Ali has created a range, so come and see some of Ireland's leading female chefs walk the catwalk. And if you have the look, you need the cook, so Rosanna Davison will give a demo on the secrets of cooking to make you look and feel good.
On Saturday, September 1st @ 17.30pm Andy Noonan of Fowl Play and The Big Grill will be demonstrating a live fire feast inspired by South American techniques, making use of whole free-range Irish meat, slow-roasting whole animals over the open fire along with seasonal vegetables cooked in the embers and swinging above the fire. In celebration of the animal, the meat will be pulled, seasoned, and mixed together offering guests a taste of all the different parts in a single bite. Serving will be at 18.00. Don't miss this!
"Is that a cake!!!???!!" is the question on everyone's lips when they see the mind-blowing work of cake artist Karen Keaney of Roses and Bows. Karen will be making us an edible Day of the Dead cake and sharing the secrets of just how she makes these mind-boggling cake creations.
Many of Ireland's favourite cooks will be cooking the foods you love, so come see Kwanghi Chan talk about the spice-bag, Bryan McCarthy foraging for cocktails, whilst JR Ryal, head pastry chef of Ballymaloe House will reveal the secrets of Ballymaloe's famous dessert trolley, and Klaw's Niall Sabongi will be cooking his much-loved seafood poké.
In the Workshop Tent, the Cupcake Bloke will be part of the children's programme – Sprinkles, Frosting and Fun hands on (and in) decoration class. (Graham will also be exploring the idea of Cupcakes with a Twist on the main stage). Kevin Thornton will bring his Kooks to the Fringe Theatre, and teach a group of festival-goers how to make bread. The Workshops and mainstage demos are operated with the assistance with Kenwood.
There will be talks on mood food with Professor Ted Dinan, author of The Psychobiotic Revolution, and discussions on how to be an ethical consumer of fish, with Dr Susan Steele, and famed Galway fishmonger Stefan Griesbach. Chefs and writers doing their stuff over the weekend also include Grainne O'Keefe from Clanbrassil House, Chef Adrian, and Galway legend Jp McMahon. We'll see the return of Festival favourites – Gulp 4.0 looking at the science of food, whilst GAA star and food blogger Sinéad Delahunty will be looking at food and sport with surfer girl and cookery author Finn ni Fhaolain.
In the Drinks Theatre, come along to enjoy demos on making the perfect coffee; detox-retox; rhubarb martinis and Intelligent Tea, along with plenty of cocktails and mixology with Hennessy, Bacardi and Glenmorangie whisky. There will also be tastings of Slane Whiskey from Alex and Wolf Conyngham and wine tastings with Leslie Williams.
And the good news is that further helpings of Theatre of Food can be experienced at the Latitude Festival, in England, this July.
ROSANNA DAVISON * KEVIN THORNTON * JESS MURPHY * KWANGHI CHAN * NIALL SABONGI * ANDY NOONAN * JP MCMAHON * GRAINNE O'KEEFE * ALEX MOUNT CHARLES * PROFESSOR TED DINAN * LESLIE WILLIAMS * CAITLIN RUTH * JACK CROTTY * JONATHAN MCCREA * IVAN VARIAN * SUSAN STEELE * BRYAN MCCARTHY * STEFAN GRIESBACH * AUSTIN BYRNE * FINN NI FHAOLAIN * CHEF ADRIAN * JR RYALL * THE CUPCAKE BLOKE * SINEAD DELAHUNTY *  DE BURCA BUTCHERS * ALAN KAVANAGH * CHAD BYRNE *  AILEEN COX BLUNDELL * AUDREY  MCDONALD * MAURICE SEEZER * LILY RAMIREZ-FORAN  * ELEANOR WALSH * JACK O'KEEFFE * AOIFE CARRIGY * JACINTA DALTON * SINEAD O'HALLORAN * ROSES & BOWS CAKES * KEVIN O'TOOLE * SHAM HANIFA * DEE LAFFAN * CAROLINE BYRNE * PAUL & MAIRE FLYNN * DECLAN MAXWELL * SHANNEN BUTLER-KEANE * RICHARD FINNEY * BEAN & GOOSE * RED STRAND COFFEE * OISIN DAVIS * FREDA WOLFE * PAT WHELAN
ENDS
Subject to licence 
Further information please contact: LHP on info@lhpublicity.ie | 00 353 1 497 0313