A BRAND-NEW TV COOKERY SERIES MADE ESPECIALLY FOR THE UNEXPECTED TIMES WE LIVE IN
INSPIRATION USING THOSE KITCHEN FOOD STAPLES
EIGHT-PART SERIES SPONSORED BY BORD BIA QUALITY MARK ON RTÉ ONE, WEEKLY FROM WEDNESDAY 6TH MAY AT 8:30PM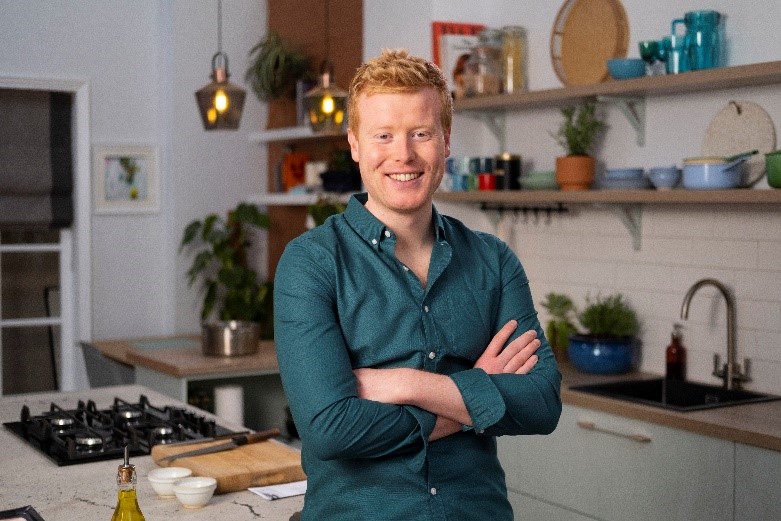 With many of us at home now looking for meal inspiration, a brand new eight-part series on RTÉ One Cook-in, with award-winning chef Mark Moriarty and Bord Bia, aims to give us home chefs a survival guide of easy-to follow, uplifting recipes for nutritious meals made from the humble contents of our kitchen fridges, cupboards and freezers. Nothing could be more delicious and simple!
As we try to maintain a balanced diet while reducing supermarket visits as Covid-19 restrictions remain in place, Cook-in with Mark Moriarty will be armed with recipes that make the most out of the food we have at home: fresh, freezer food and non-perishables, tinned pulses and packets and even left overs.
Mark, a chef at the two-Michelin star restaurant The Greenhouse in Dublin and presenter of RTÉ's popular Beyond The Menu series, is also putting his cooking skills to a very different use right now. He has teamed up with a not-for-profit initiative preparing meals for frontline staff fighting Covid-19 in the ICU of Naas General and Connolly hospitals, as well as four local nursing homes and community support meals via Gardaí in Kilcullen, Co Kildare. And now, he is hoping to help us face the daily challenges of eating well and feeding our families at this time.
Always a champion of Irish food producers, Mark will be using Irish ingredients where possible as part of Bord Bia's Quality Comforts' campaign, encouraging viewers to use a range of quality assured red meats, poultry, fruit, vegetables, Irish whitefish and dairy products to create healthy and comforting meals at home. Mark will check in weekly with different Irish food producers and viewers at home through video links to hear how they are getting on.
Teresa Brophy of Bord Bia said: "At times like this, people are looking for inspiration for tasty family meals as well as ways to relax by trying out new recipes, baking and treating themselves. With farmers, food producers and fishermen continuing to bring us the very best of food, at Bord Bia we want to help families prepare tasty, healthy meals at home with quality assured food, Irish fish and dairy products for everyone to enjoy."
Brian Walsh, Executive Producer for RTÉ on this series said "In these challenging times it is great to welcome Mark Moriarty back to our screens with a series specifically designed and made to help us all cooped up at home to utilise cupboard staples and to try our hand at some baking techniques for all the family. RTÉ is delighted to be bringing this new series to Irish viewers".
Viewers are encouraged to get in touch with Mark with any foodie questions on cookin@appetitemedia.tv
Mark Moriarty said: "I am delighted to be presenting Cook-in which I hope will give you useful and practical advice for creating simple dishes, while you stay safe at home during the ongoing pandemic. It's all about using what you already have in the kitchen cupboard and giving it a new lease of life, seeing as we can't head to the supermarket as frequently as usual. I'll be taking inspiration from the food we usually cook after work in the restaurant as well as my new found experience in preparing food for frontline workers; meals that have to be prepared quickly, on a budget, using what you've got leftover and of course, they have to be delicious. I'm aiming to keep things simple, using three or four steps for each dish – but hopefully, my experience as a chef and knowledge of ingredients can help elevate your cupboard essentials into a delicious dish."
He added: "I'm extremely proud to be working alongside Bord Bia and RTÉ and showcasing the fantastic ingredients and food producers we can boast of here in Ireland. It's a difficult time for many industries. I hope we can showcase the hard work being done in the food and drink industry in Ireland right now, keeping shelves stocked and businesses afloat"
This new 8 part series produced and created by Appetite Media and will be filmed weekly in studio adhering to HSE guidelines and social distancing measures with many crew members working remotely.
Be sure to tune in on Wednesday 6th May @ 8:30pm, on RTÉ One and get Cookin'!!!!!
Ends
Link to Mark's bio and all other assets will be found HERE